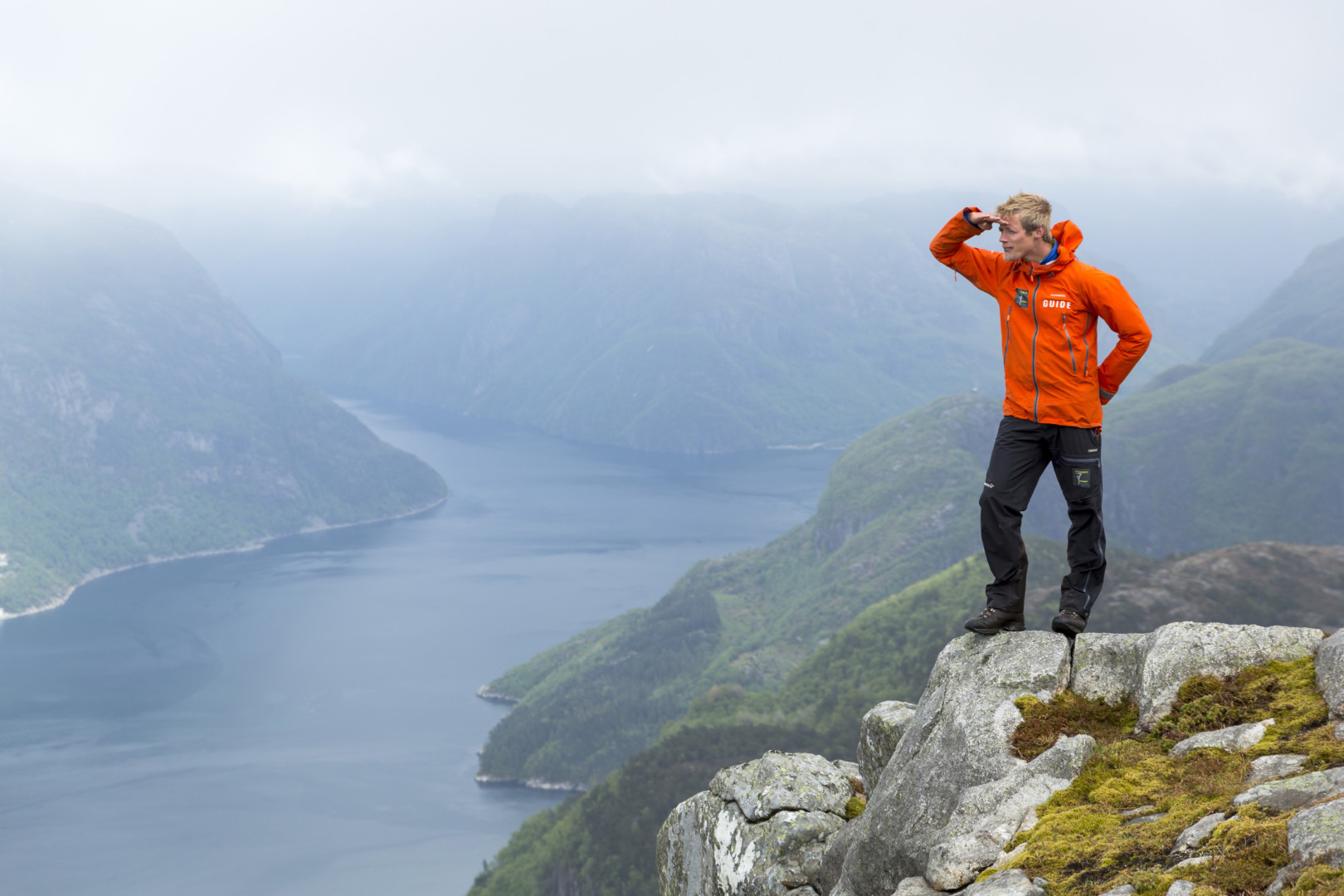 YEAR AROUND: Johannes Apon, the founder of Outdoorlife Norway, bring hiking tourists to Lysefjord, Pulpit Rock and Kjerag. (Photo: Outdoorlife Norway)

As the leading provider of «off the beaten track» adventures in the Lysefjord, Outdoorlife Norway has built a portfolio of innovative guided tours that highlight Norway's most iconic natural landmarks. Our specialty is guiding hassle-free, personal, small-scale, and high-quality hiking tours to Preikestolen (Pulpit Rock) and Kjerag.
Since 2014, we have lead more than 700 hikes to Preikestolen (Pulpit Rock), and more than 300 hikes to Kjerag. Besides group and private tours to these popular destinations, Outdoorlife Norway also offers unique hikes to hidden gems like Flørli (the world's longest wooden staircase), Månafossen (our region's highest waterfall), and many of the other spectacular landmarks Fjord Norway has to offer.
Our small team of educated, professional, and dedicated nature guides has the experience and know-how to ensure you a safe and memorable outdoor adventure into the fjords, mountains, and valleys of the Stavanger and Ryfylke regions.

The adventurer and nature enthusiast Johannes C. Apon has a master in nature tourism (NMBU) and is the founder of Outdoorlife Norway established in 2014. The company's specialty is guided tours of the Lysefjord, year-round. The company currently has six employees, and several natural guides in season.
Outdoorlife contribute to tourism in Rogaland based on knowledge and quality, in a sustainable manner.
Empowered by Validé
Incubatorcompany from 2015
Investment from Validé AS. Exit: 2019.
«We thank Validé for very good guidance and advice as a board member from 2015 until 2019. Without Validé, the company and I would not be where we are today»
Johannes Apon, owner and general manager of Outdoorlife