En abscess er en infeksjon som har kapslet seg inn - enten i huden eller inni kroppen.
Hvis ikke abscessen renses og dreneres, kan det bli livstruende. Behandlingen er derfor å sette inn et kateter som renser den - enten ved operasjon eller gjennom huden. Denne type operasjoner skjer på sykehusene våre daglig. Mange pasienter med abscess ligger på sykehuset i flere dager, uker og i verste fall måneder.
Sverre Nesvåg, som er forskningslederen ved KORFOR, lå selv på operasjonsbordet da han fikk ideen om hvordan denne rensingen kunne gjøres på en mer effektiv måte. Han tok kontakt med gastrokirurg Tore Tholfsen. Sammen utviklet de en alternativ metode for drenering av abscesser, som fordeler rensevæsken mer effektivt inni abscessen.
De to har fått 200.000 kroner i lokale prosjektmidler gjennom FORNY-programmet til Norges forskningsråd for å utvikle ideen MADS; som er forkortningen for Multiphase Abscess Drainage System. videre. Håpet er at denne nye løsningen korter ned liggetiden og gjør behandlingen bedre for pasienten.
Støttet av Validé:
• Validé TTO har bistår med forretningsutvikling i FORNY-programmet
• Et prioritert patent og en PCT er innlevert
• Det er tenkt en lisens for hvilke ytterligere tester
• De første kontaktene med aktører som 3M MSD er tatt
• Forretningsutvikler: Izaskun Muruzábal-Lecumberri




Problem
Formation of internal abscesses with infection is a frequent outcome after surgery. Current methods for eliminating the infection and cleaning the abscesses have low efficacy, making the patient spend long hours at the hospital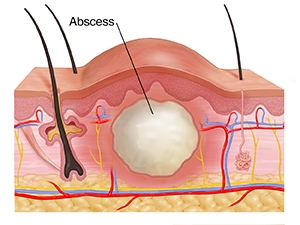 Solution ​
Multiphase Abscess Drainage System (MADS) consists of a new type of catheter that makes this process faster and easier to monitorize.
Supported by Validé​
• A priority patent and a PCT have been filed​
• A license is envisioned, for what further testing is being pursued in order to get PoC​
• First contacts with actors such as 3M MSD have been made